 34 views
| | |
| --- | --- |
| Genre | Progressive metal, Power metal, reggae, seen live, ska |
There are at least 5 bands named Majestic.
1. A United States indie pop band (formerly knowns as Majestic 12) who play lush, sunny, feel-good music with organs, synthesizers, and trumpets augmenting the usual indie rock guitar/bass/drums set-up. Lead singer Scott Schultz uses the theremin to interlace the music with soaring noises.
Influencers Include Galaxie 500, and Mazzy Star
Discography:
Live it Up! (Shelflife Records 1999)
Wake Up, Come Out and Play! (Shelflife Records 2001)
2. Swedish Progressive/Power/Neo-classical Metal band. The group was formed by virtuoso keyboardist Richard Andersson. There are lot of neo-classical parts in it. People who like Rising Force, Stratovarius, Symphony X should listen to this stuff.
Band:
Richard Andersson - keyboards
Magnus Nordh - guitars
Peter Wildoer - drums
Apollo - vocals
Martin Wezowski - bass
Discography:
Abstract Symphony - 1999
Trinity Overture - 2000
—————————————-
3. Polish Reggae from tricity.
Source: metal-archives.com wikipedia.org
______________________
4. MAJESTIC
Neo-Prog • United States
Majestic biography
MAJESTIC was formed as a one-man project in the US by Jeff Hamel. Hamel started playing guitar at the age of 14 and began his musical career as the guitarist for the 80's progressive metal band OSMIUM. Hamel then studied recording technology at the Record Institute of Detroit.
In 2004, Hamel started his MAJESTIC project. As a multi-instrumentalist, Hamel took on the task of composing and recording all of the music himself, while occasionally seeking the vocal talents of other artists. He released the first MAJESTIC album "Descension" in 2007. He followed this up with "String Theory" in 2008, bringing in a guest vocalist on one track and a guest flautist on another. At the beginning of 2009, he released a compilation CD, "Majestic Sampler 09", which included tracks from the first two CDs as well as unreleased songs.
In 2008, Hamel began performing with vocalist and lyricist Jessica Rasche, who had been singing since the age of nine. The two released the album "Arrival" in 2009.
The band's influences include YES, GENESIS, DREAM THEATER, RIVERSIDE, AYREON, KING CRIMSON and DEEP PURPLE, as well as more 80's-oriented fare, such as Pat Benetar and HEART.
Albums:
Descension - 2007
String Theory - 2008
Arrival - 2009
V.O.Z. - 2012
source
From Progarchives.com, the ultimate progressive rock music website
_____________________
5. Majestic (Electronic Artist)
Majestic came into existence in 1999 and produced the debut album No Moving Parts in 2000. The name was inspired by the alleged secret government agency in charge of 'handling' UFO reports the 'Majestic 12' and this first album reflected that theme.
The style of music, although essentially electronic, was also intended to be experimental and avant garde. This has not essentially changed, even though Majestic now has a slightly more sophisticated sound compared to it's very humble beginnings.
The next album in 2001, Last Man on Earth, dealt with more terrestrial themes of personal emotion. Once again, very sample led but with more layering of instruments, some of them very conventional in sound. This was then closely followed in 2002 by Internet Generation, which began to form the true sound of Majestic in both musical and production style. It also had a multi meaning concept, as samples were lifted off the internet and the album had subtle references interlaced with some hidden social comment. It would be logical then to produce the album UBIK later that year. Inspired by Phillip K Dick it introduced more funky sounds and lower level tones similar to the very first album. 2003 and it was the turn of the 'lost album' entitled Glorious Moments, so called as all the existing recordings were lost during a studio move but it was later painfully remastered.
After a 3 year break, a return with Identity which went back to a few basics, while introducing a slightly different sound but very closely followed by Fly, which was much more like the sort of material that we were introduced to from the UBIK album. Another 2 year gap and a new fresh sound with the Possession EP, which used elements of techno not previously explored.
This freshness was followed by Special in 2009, which is a combination of melodic electro and the more Avant-Garde, typical of most of the music produced by Majestic. This is rapidly followed in the Loaded Gun EP, which features the more upbeat electro tracks from the album in re-mix form.
I Was Majestic was the very first compilation album to kick off 2011. This primarily features a selection of hand picked tracks from the first four albums.
Industry Part 1-5 released in September 2011 is the first ever music video EP from Majestic which is only available in video form with no audio EP equivalent. The concept is that the visuals belong with the music and are considered an assemble set piece. Various delays and distractions made this project nearly four years to make.
October 2011 then sees the release of Gauge, the first truly 'non-musical' approach using a whole array of metallic sounds and heavy industrial soundscapes. This album marks the beginning of a new era, although this album is a unique set piece reflecting a brief departure from the other previous albums.
©Module 8 Music Recordings (UK)
©Remote Viewing Media
©Kevin J Hatton
Source: module8 Music Recordings
Remote Viewing Media: http://www.remoteviewingmedia.co.uk/Remote_Viewing_Media/Music.html
Source
Top Tracks
1
Bodywork
2
I Wanna Be Down
3
Me & U (feat. Kelsey)
4
Release
5
Naughty Sesh
6
Not Over Yet
7
Standing Alone
8
Bub
9
Let's Go Back - Cause & Affect Remix 10
In the VIP (Dubwise Remix)
Top Albums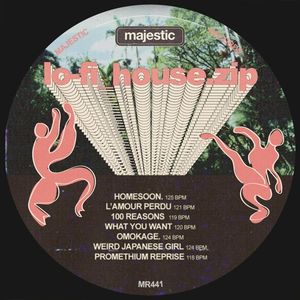 music to feel better
tracks