31 views
| | |
| --- | --- |
| Genre | breakbeat, breaks, Funky Breaks, jungle, booty breaks |
DJ Deekline makes up one half of the dancefloor-destroying duo that is Deekline and Wizard ( aka Nick Annand and Greg Fleming). Deekline started collecting records as a youngster, inspired by funk and electro, before becoming interested in hardcore and jungle; which led to him being at the forefront of breakbeat culture from the beginning. He has become an iconic name within the breakbeat, Miami bass and dance scene, creating his own unique sound of breakbeat, with a more funky and electro twist, and more recently incorporating a Miami bass style.
Deekline has made a name for himself as a highly skilled DJ and producer being responsible for tunes like "Don't Smoke The Reefer", an official remix of Old Dirty Bastards' "Got Your Money" and "Every Posse & Crew" (with FreQ Nasty) rocketing into the dance charts in the UK and earning Nick maximum kudos in the breaks, garage and 2-step scenes and not to mention his Rat Records label which is gaining momentum in the breakbeat scene for its attention to high quality breakbeat releases.
Over the past 6 years Deekline has been playing in every major city throughout the globe, from Sofia to Sydney, and Frankfurt to Tokyo.
Deekline can credit himself with five tours of America, three tours of Eastern Europe, and two tours of Australia, with more tour dates to follow in 2007. Not only this, Deekline is the founder of up and coming record label 'Rat Records' which to date has put out 23 successful releases.
Last year saw the release, of Deekline's 11 track long-awaited debut album 'Breaks, Beats & Blondes', a collaboration with partner Wizard, which led to them being recognised more prominently as one of breakbeats most uber-production duos.
Deekline also runs various club nights, mainly in London, including Bounce at Bar Rhumba, which is now infamous as the UK's no.1 booty bouncing event. Furthermore, he has worked with everyone from Top Cat to Skinny man, as well as all the major names in the breakbeat scene; Freestyles, Arthur Baker, Stanton Warriors, just to name but a few. His remixes span everyone from Armand Van Heldon, Old Dirty Bastard, Stereo Mcs, and Freesylers. His last track 'Fame & The Money' (which was made under the Booty Bouncer title with Wizard) was play listed on MTV .
'Touch Your Toes' was signed to Norman Cook's 'Skint' label and went on to full release in the summer of 2006 and in the last year Deekline has been behind some of the biggest selling break beat anthems the scene has ever witnessed, such as the 'Outta Space' boot leg which went on to get signed by German label 'Super Star', the 'Boom Blast' remix for Freestylers and the Armand Van Heldon remix 'My My My', Zane Lowes tune of the week on Radio One and one of the best remixes of the year. Both remixes went up for remix of the year at the breaks poll awards in 2006.
In addition to his music, business and record label, Deekline also has a soft spot for pairs and blondes and would one day like to create his own blondes with big pairs machine! Deekline's drive behind the creation of this scene is to make music that girls just want to wiggle too and has worked out that he has the most excellent view from the turntables to witness such acts.
2007 is set to be a phenomenal year for DJ Deekline, his partner Wizard, and all other collaborators that work with him.
Top Tracks 1
Be Happy
2
King Of The Bong O - Original Mix
3
I Don't Smoke - Original Mix
4
I don't smoke
5
Top Rankin - Original Mix
6
All The Way Up 7
Be Happy - VIP
8
No No No - Serial Killaz Remix
9
Pass Me The Rizla - Original Mix
10
Click Clack
Top Albums
King Of The Bong O
tracks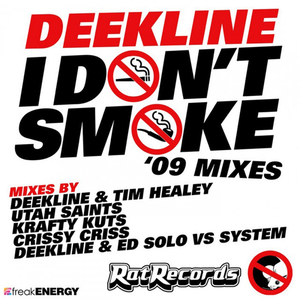 I Don't Smoke ('09 Mixes)
tracks